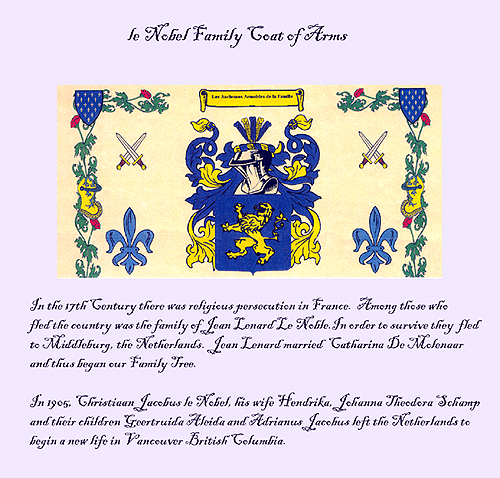 LENOBEL ORIGINS
In February 1992, Dr Han leNobel visited Vancouver British Columbia. As usual when he visited a new city, Han checked the local phone book for families who spelled their name the way he spelled his. When he returned to the Netherlands he contacted Jim and Edith leNobel and Joan leNobel and in a June 29, 1993 letter to Joan said "This is definite proof that one - until yet unknown - branch of the leNobel family is living in Canada".
In the same letter he says, "The family originates from somewhere in the neighbourhood of Dijon, in southeastern France. Up 'til now no efforts have been made to investigate there. Moreover this could be very difficult - even impossible! In the 17th century and earlier there was no civil registration, no registration of births, deaths and marriages. The only sources could possibly be old church registers, written by hand and in ancient French language."
"There is a coat of arms of the family. It has been proved that this coat of arms relates to this area and nowhere else."
In early 2003 Han and his wife Nastasja visited a centre in Paris that specializes in Huguenots. There they found further roots. "The le Nobels most likely originate from the city of Rouen in Normandy. The oldest traces are in 1575 when a le Nobel married. More details are needed before there is definite proof, but the evidence is striking and it is confirmed that those le Nobles carried exactly the same coat of arms as the one that entered the Netherlands ▒ 1720. Most of these early le Nobels were in some way engaged with practicing law and with parliament." says Han in a recent note.
In the 17th century there was religious persecution in France. The Protestant Huguenots had been given freedom to worship and political freedom by Henri IV in the Edict of Nantes in 1598. Louis XIII and Cardinal Richelieu repealed the edict in 1685 and thousands of Huguenots fled France for the Netherlands, England, Prussia and America. Among them was the family of Jean Lenard le noble". Little is known of the size of the family or where they all went. At least one boy Jean Lenard Lenoble fled to the Netherlands. He lived and died in the city of Middelburg in the southwestern part of the Netherlands.
His Christian name changed from the French "Jean" to the Dutch "Jan" and his surname changed from "Lenoble" to "Lenobel". Eventually this became "LeNobel" and "leNobel". At present there are many "LeNoble" names but these are not considered to belong to the family tree. The first part of the surname - "Lenard" became the Dutch name "Lienaart" and eventually disappeared. At present the official surname is "le Nobel" or LeNobel".
This Jean Lenard Lenoble is considered the "founder" of the family. His is called "generation #1" after the French period. Because of the name and the coat of arms the name could have belonged to the French nobility in the 17th century. As far as is known, the leNobel families lived in Middelburg until the 4th generation, some of them even longer. Most of them were merchants and quite wealthy. Changes took place in the 3rd generation and later. Only two branches continued; from there the family expanded.
a) The branch originating from Johanes Leynaar LeNobel (1752-1821) who married Wilhemina de Wagter - ancestors of the Vancouver le Nobels
b) The branch originating from Abraham Leynaar LeNobel (1760 - ?) who married Catharine Philipse. - Ancestors of Cornelis Pieter Johan (Han) le Nobel.
"Branch a) is not very well known. Apart from "merchants" nothing is known about their trades or professions. Until the 7th generation it was very vulnerable to extinction. Thanks to Christiaan Jacobus leNobel (1872-1967) "Chris", it survived. Chris and his wife Theodora (Dora) came to Canada in 1905." Their children and the children of his second wife Elizabeth make up the 8th generation. "The Cousins" are the ninth generation. There are six leNobel boys in the tenth generation so the family will continue on this side of the Atlantic.
Branch b) divided more. At present there are 7 branches. Han's generation is the 9th. There are 16 children in the 10th generation - eight of them boys so the family will continue in the Netherlands after Han and the other members of the 9th generation.
"One small branch of the 7 in "branch b)" probably lives in Montreal." In early 2006 "Peter Charles William leNobel" contacted our Dutch webmaster, Marc le Nobel. He gives us the following updated information. His grandfather was Jacobus Wilhelmus le Nobel (May 5, 1877 - July 9, 1953.) Jacobus' son Willem moved his family to England where Peter was born. Peter moved to CAnada in 1966 and married "Geraldine Kalichman" in Montreal in 1969. Their children are Elizabeth Anne (1970) and David Wim (1973). Elizabeth has two children, Samantha Kellye Feldman (February 3, 1999) and Rachel Michelle Feldman (May 20, 2003). They would be 9th, 10th and 11th generations. The family currently lives in Innisfil, Ontario. So the connection between the leNobel families in the Netherlands and in Canada dates back to the brothers in the 3rd generation around 1800.
THE LE NOBEL GENERATIONS

GENERATION 1
Sara Abekerk = Jean Lenard Lenobel = Catharina de Molenaar d. August 8, 1750 d. 1748

GENERATION 2

Cornelis Leinart Lenobel = Tannetja Servaas Jacob Lenobel

GENERATION 3

Johannes Leynaar Lenobel 2.8.1752 - 28.12.1821
=
Wilhelmina de Wagtar 17.3.1806

The Vancouver le Nobels

Catharina
Pieter
Jacobus

Abraham Leynaar Lenobel
4.11.1760 - ?
=
Catharina Philipse
1762-1848

Han le Noble's Branch

GENERATION 4

Cornelis Leynaar le Nobel
b.8.6.1775
=
Anna Catharina Olaey
1778 - 1864

Christiaan Gerardus le Nobel 1.10.1778 - 16.3.1833
=
Jacoba Dina Kuypers
3.1.1780 - 8.3.1829

GENERATION 5

Johannes Cornelis le Nobel
13.8.1809 - 4.8.1873
=
Catharina Geertruida Bal Snyders
16.4.1807 - ?

3 brothers

2 sisters

GENERATION 6

Adriaanus Jacobus le Nobel
18.12.1837 - 28.11.1882
=
Anna Maria Van de Kamer
28.3.1840 - 18.4.1872
Catharina Geertruida Johanna
1863 - ?
=
Gilles Pieter Willem Mavinveld



Jacobus Willem
1866-1924
=
Adriana Spel
1863

Elizabeth Johanna
1867-1926
=
Jan Pieter Haverkamp

Christiaan Jacobus
1872-1967
=
(1)Hendrika Theodora Schamp
1871-1906
=
(2)Elizabeth Horst
1880 - 1965
| | | |
| --- | --- | --- |
| | Christiaan Jacobus leNobel 1872 - 1967 | |
CHRISTIAAN JACOBUS leNOBEL
From a letter from Anne leNobel Whalen to Han leNobel - September 20, 1993 According to Elizabeth, Christiaan was loath to discuss his past - life seemed to have been difficult.
When Christiaan was a small boy there was lots of money - then suddenly, very little. The story goes that Christiaan's grandfather (Johannes Cornelius (1809) had a very successful merchant business probably in Middelburg. Most of their purchases came from the East Indies and accounts were settled once a year. One of Christiaan's aunts was engaged to be married. Her fiancÚ suggested that, as he planned a trip to the East Indies, he would take the money and pay the account. The offer was accepted and the young man disappeared with the money. In order to cover the loss and pay the bills it was necessary to sell the business. This was done and what was left (very little) was put aside for the education of the grandchildren. (Anne often wondered why she had heard nothing of Christiaan's father, Adrianus Jacobus but according to Han's records he died when Christiaan was ten years old.) At the same time, Christiaan's aunt - the young woman who was engaged to the scoundrel - was placed in a mental institution and died there.
Adrianus Jacobus had married Anna Maria van der Kamer, a Catholic. The money left for the care of the grandchildren was not carefully controlled and when Christiaan was about fifteen - both his parents were dead - he was apprenticed to a clothing merchant to learn the dry goods business. When he had completed his apprenticeship, he opened a small dry goods store, probably in Hilversum. At that time he was a student of theosophy, following H.P. Blavatsky's teachings and he persuaded his family to join him in his studies and renounce Catholicism. That resulted in the priest announcing to his congregation that anyone who did business with Mr. leNobel would be excommunicated. What was left in the store was sold for a song. Anne reports that Christiaan was a very poor businessman - his interests lay in music and reading and it is probable that his business would not have prospered in any case. For this reason, Christiaan and Dora with their two small children Aleida and Adriaan came to Vancouver. She believes they may have stayed briefly in a small town in southeastern BC. Because of his negative experience in the dry goods business in Holland Christiaan refused to have anything more to do with dry goods - a bad decision because he knew materials well but loved too well the beautiful expensive goods that were difficult to sell.
Dora died in childbirth in August 1906 and two years later Chris married Elizabeth Horst. They were financially able to marry because of a curious incident in Holland.
A family friend, who knew the family history, had seen the "young scoundrel" on a train in Holland - had reported the fact and a lawyer was called in. Time had gone by, proof was hard to come by, but the (now older) man said he would pay a certain sum to the family on condition that nothing be published by the family. Christiaan received $2000 so he and Elizabeth were able to marry. Chris still refused to go back to the dry goods business - sad because Elizabeth had a very good head for business and with Chris' knowledge of dry goods they could have been very successful. Chris was a labourer for the rest of his life. His children were raised on a small fruit farm in Richmond BC and Anne reports that conditions were difficult.
THEODORA SCHAMP (1869 -1906)
From information received from Betsy - Dora's niece
Generation #1
Schamp - Theodorus Johannes (August 4, 1828 - Jan. 18, 1891) Arnhem, Netherlands
Kelderman-Verwey - Geertruida Aleida (June 29, 1832 - 1904) Amsterdam Netherlands
( From a first marriage to Mr. Verwey one daughter, Maria Verwey was born about 1860 in Holland and died in Oakland CA in 1944 (Aunt Mary)
Generation #2
2 sons and a daughter
Schamp - Gerard Herman (August 9, 1867 - Dec. 21, 1960) (father of Betsy) Amsterdam
Schamp - Theodora (21 Feb., 1871 - August 28 1906) married 1895 to Christiaan Jacobus leNobel) in 's-Gravesande Netherlands
Schamp - Theodorus Johanes (b. 1870 in Holland d. 1945 in Vancouver) - married to Aunt Riek (who looked after Ted when Chris and Elizabeth Horst married)
Gerard Herman Schamp married twice. His children are first cousins of Aleida, Adrian and Ted His first wife was Dirkje Galis who died giving birth to her second child -a boy Martin in 1902. A girl, Alida was born November 30, 1900
His second wife was Alida Maria Anna Snijders. Their children are:
Schamp, Theodorus Johannes b. June 30, 1904, d. April 14, 1945 (buried Overveen Netherlands)
Schamp, Elizabeth Alida Sophia (Betsy) b. Dec 1905 Amsterdam - married G.J. Van Dijk
- one son Hubertus Gerard (DEC 16, 1931 in Curacao
Schamp, Johan Herman b. 1910 Amsterdam married Wilhelmina Helsloot - no children
Aunt Mary Verwey was the first to immigrate to Canada. She returned to the Netherlands in 1904 or 1905 to try to persuade her brothers and sister to come to Canada. In 1905, Christiaan and Dora, with their children Aleida and Adriaan, and Theo and Riek did so.
In 1910 Mary Verwey returned to the Netherlands to try to persuade Herman Schamp to follow. Because his wife was pregnant with her third child they decided to stay in Holland until she had the child - Johan Herman Schamp. Aunt Mary took the two children of the first marriage - Alida and Martin to Canada in August 1910. Martin died of typhoid fever in Portland OR in 1920. Alida married Burton Slough.
Theo and Riek (Dora's brother and sister-in-law) took care of Ted when his mother died. Betsy thinks they came to stay with Christiaan but she isn't sure. Betsy says, "It seemed they weren't the right people to help. Aunt Riek was an awful bad woman so I learned. Uncle Theo was very much henpecked by his wife."
Anne leNobel Whalen commented that her mother, Elizabeth insisted that she and Christiaan get Ted away from Riek and get him into their home as soon as possible after their marriage.
ELIZABETH HORST

Elizabeth was born in Amsterdam, The Netherlands on April 2, 1880 to Heinrich S. Horst 1842- 1925 (son of Hein Gerrit Horst) and Hendrika Johanna Elizabeth Koppel. Her older brother, Heinrich S.G.N. Horst (1874 - 1951) came to Canada in 1907, followed 5 months later by his father, his sister Elizabeth and his children. Elizabeth was obliviously there to care for her nephews, Henri and John and her niece Rika. In Elizabeth and Christiaan's wedding picture, Opa Horst is the man with the white mustache; Elizabeth's brother Heinrich holds Rika; her nephew Henri has his hand on Chris' shoulder and her nephew John stands behind her. Several years after Elizabeth and Christiaan's marriage, Heinrich and his children moved to Shackleton, Saskatchewan where some family members still live in the area. Others moved back to British Columbia and are in the Kelowna and Lower Mainland areas. Opa Horst made his home with Elizabeth and Chris until his death in 1925. He is buried at the Mountain View Cemetary in Vancouver.


THE VANCOUVER leNOBELS


Hendrika Theodora (Dora)
m. 1896
21.12.1871 - 28.06.1906

Christiaan Jacobus (Chris)
8.4.1872 - 29.10.1967

Elizabeth (Betsy)
m. 1909
2.4.1880 - 20.8.1965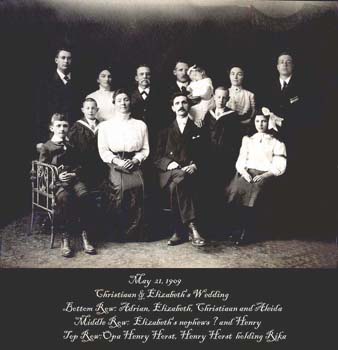 Geertruida Aleida
b. 4.10.1886
d. 27.6.1970

Adriannus Jacobus
b.23.12.1897
d. 4.12.1980


Christiaan Jacobus
b.7.1.1901
d. 7.1.1901


Theodor Hendrik
b. 28.6.1906
d. 1.11.1984

James William
b. 2.12.1910
d. 29.5.2001

Anna Maria
b. 9.2.1912
d. 22.6.2002

Henry
b.27.2.1914
d. 18.7.1986
Geertruida Aleida
October 4, 1896 - June 27, 1970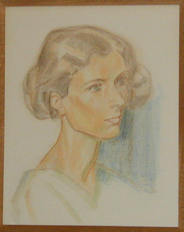 Aleida was born in s'Gravenzande Holland in 1896 and came to Canada with her parents and brother Adriaan in 1905. After her mother's death in 1906, her father's remarriage in 1909 and the subsequent birth of three more children, she became a substitute mother to her younger brothers and sister while the adults of the family managed the farm in Richmond BC.
In 1925 Aleida moved to Berkley California, possibly to join her Aunt Mary Verway, and in 1928 she joined the Anna Head School for Girls to complete her high school education while she worked there as a chaperone. She went on to the University of California at Berkley (still chaperoning at Anna Head) where she received her BA and teaching degree in 1935.
Aleida taught for many years in California and Nevada and in 1951 she married her Douglas (Douglas William Newman) a friend of many years' standing. Douglas died in about 1956 and Aleida retired to her beloved Vancouver in 1958.
My two most enduring (and endearing) memories of my Aunt Aleida are of her feeding "dead bread" to the ducks in Stanley Park and of her rushing back to Vancouver for summer holidays, hoping it would be a wet summer so she could walk in the rain.

Adriaanus Jacobus
December 23, 1897 - December 4, 1980

December 23, 1897: Adriaan Jacobus le Nobel was born in 'sGravezande, Netherlands, the first son of Christiaan and Dora le Nobel. In 1905 they left Holland for a new life in Canada. They arrived in Vancouver and bought a house on Prior Street, and young Adriaan started school without knowing a word of English or getting any ESL assistance. In 1906 his mother, Dora, died while giving birth to his brother Ted. Two years later his father married Elizabeth Horst.
When Adriaan had completed grade 7 he was encouraged by his father and mother to quit school and find a job to help support his younger brothers and sister. So at the tender age of twelve he started delivering groceries for "Wilbies Food Market". It was an evening job and did not start until after the store had closed. His transportation was a horse drawn buggy with no roof, and it was a cold and miserable job which led to a serious health problem when at 19, he lost a kidney to TB. The family had moved around 1915 to farmland on Lulu Island. In his teenage years he worked at various jobs to contribute to the family coffers - planting and digging potatoes, fishing in the Fraser River and trapping fur bearing animals in the lower mainland which eventually led to his interest in raising mink. His father preferred to act as the family patriarch, fond of his pipe and books and did not hold any regular job.
While crossing the Fraser River bridge one day, Adriaan and his father met, and offered to carry groceries for a young mother, Jessie Musto and her attractive young daughter Phyllis. My mom later said she kept sneaking glances at this tall, very thin, handsome young man. Mom and Dad started dating but this was not met with enthusiasm by either of the families. When it became obvious to the two that it was becoming serious, a plan was formed and, on May 18, 1929, mom caught the noon "interurban" which ran from Vancouver to New Westminster. Dad was on it, and in a small church in New Westminster, with Dad's brother Ted as witness, they were married.
The young couple moved into a very small house on an unkempt acreage in Burnaby. Dad found a job at the New West Brewery in the bottling department, where he would work for 32 years until retirement. He became shift foreman and president of Local 300 of the union, and was liked and respected by both union members and company management. In 1931, their first child, Adriaan Ernest was born; in 1936 a daughter Beth and in 1941 a second daughter Marcia.
Dad tried his hand at many things to boost the family, including raising pigs, chickens and finally ranch mink. However, after many arduous years these proved unsuccessful and finally the acreage was subdivided and sold. He retired at age 65 and spent many years turning their half acre into a beautiful park-like setting. He loved fishing for salmon, but curiously enough, could not eat any of his catch, although the rest of the family enjoyed it. After 17 years of retirement he passed away at the age of 82.


Theodor Hendrik
June 28, 1906 - November 1, 1984 r H
Ju ne drik ne 28, 1906 - Novenber 1, 1984
Joan Gold le Nobel contributed the following about her husband Ted
Theodor Hendrik le Nobel (Ted) was born in Vancouver BC on August 28, 1906 to Christiaan Jacobus and Henrdina Johanna Theodora (Dora) le Nobel who had recently immigrated from Holland with their two children Aleida and Adriaan. Dora died when Ted was born.
Ted spent the first three or four years of his life in the care of relatives of his mother. During this time his father remarried, and when Ted was about four, Chris' new wife Betsy decided that he must become a member of the new family. So Ted was unceremoniously delivered to the le Nobel home to begin a new life with a father he scarcely knew and a mother he knew not at all. But her enjoyed a happy childhood, growing up on Lulu Island on the banks of the Fraser River, one of a family which grew to six youngsters with the subsequent birth of two boys and a girl. Betsy had very firm ideas on the meaning of "family" and the two le Nobel "halves" were welded into one unit, wherein all members were given equal love and care.
Ted attended Vancouver Technical School, but his early ambition was to become a prize fighter, an ambition that was supported by more than wishful thinking. An early undated press clipping describes him thus: "Kid Noble (sic)the local Abe Lincoln, who looks like a railsplitter but is dynamite with the gloves on, beat Jack Collyer of Everett in three rounds. It was the best of the night. Abe waded in cheerfully and steadily until he emerged in front....It was the long kid's fight." But early in his fighting career the fledgling boxer realized that his eyesight was not good enough to continue on this path and he looked for a less aggressive way to earn his living.
This led him to a lifelong career as a general insurance agent, which he loved, and at which he was very successful. He developed a loyal customer/client base in the Fraser Valley during the "Dirty Thirties". His customers became his friends, as they realized he was as interested in taking care of their insurance needs as he was in earning a commission. He enjoyed the respect of other members of the insurance community, and served a term as president of the New Westminster Insurance Agents' Association.
This life was interrupted by the Second World War. He enlisted in the Royal Canadian Air Force, but the strictly regimented and regulated life of a leading aircraftsman was not to his liking, and he was happy to be honourably discharged in May of 1945. So happy was he at the prospect of returning to work he enjoyed that when May 8, 1945 (VE Day), the day he had planned to resume his insurance career, was declared a holiday, he went to work anyway.
In the meantime, he and Joan Gold were married in November 1943. Susan Joan was born in 1945, James Edward in 1946 and John Christian in 1950.
Ted's success in the insurance business earned him a partnership in the firm for which he had worked since the early thirties. Smith & Hutton Ltd. became Smith, Hutton and le Nobel Ltd. He provided a comfortable living for his family and was pleased that his daughter and sons were able to lay the foundations of successful careers by preceding to post-secondary school education.
Ted spent his life in the insurance business, but he was not at all the typical insurance salesman as portrayed in movies or fiction. A tall, slender, fine looking man, he was utterly indifferent to convention, resistant to authority, in the sense that he was happy to work independently and could never have accepted the restrictions of working for a large institution. He had a keen sense of fun and boundless energy (a trait common to many le Nobles).
When death or retirement left him the sole remaining member of Smith, Hutton & le Nobel Ltd., he was agreeable to turning the business over to Wolstencroft Ltd., a similar agency headquartered in New Westminster. He transferred his files to their office an happily resumed his former role as an insurance agent, free to spend his time on the road greeting old friends and making new ones. Retirement held no attractions for him, and he continued working wee into his seventy-eighth year.
He died on November 1, 1984 a victim of prostate cancer.

James William
December 2, 1910 - March 29, 2001

As the son of an early Richmond pioneering family, Jim carried his share of the chores by trapping muskrat, delivering papers and tending the family berry and vegetable crops. Jim, his father, Christiaan and brother Adriaan worked at the Westminster brewery, walking long distances from the farm, across plank sidewalks and along the old interurban rail line. His mother often reminded him not to come home showing signs of tasting "the product".
Jimmy's love of music and flowers was to last his life long. As a teenager he once spent $25 (a vast sum in those days) on five orchid plants. As a young man he traveled to London to study his passion, the violin but it was a struggle to compete for a living against the many unemployed musicians on the streets of London. He returned to the brewery but soon began growing mushrooms with his younger brother Henry. On his honeymoon in San Francisco with Edith in 1938, the beauty of orchids caught his attention again and on their return to Vancouver he bought a small, used, greenhouse. After his first order of orchids "cooked" during the long voyage from Europe, his faith in the plants was rewarded as "le Nobel Orchids" prospered, becoming one of the foremost suppliers to the florists of Canada. He retired at 85 in 1995 but "le Nobel Orchids" still exists in Ladner BC. Edith and Jimmy traveled the world in search of ever more beautiful and exotic blooms to delight themselves and many others. Jim's love of music translated into long years of service to the Vancouver Symphony, becoming Honorary Chairman of the Friends of the Symphony and Patron of the Vancouver Symphony Orchestra. On the eve of his 86th birthday the orchestra honoured him by naming him its most enduring subscriber. He had been attending performances for more than 67 years.
Their oldest son, Steven and his wife Anne are in the horticulture business and live in Vancouver. Younger son Neil and his wife Doreen live in Richmond where Doreen also carries on Jim's love of flowers. Their daughters, Renee and Tracy visit Edith often.

Anna Maria
February 12, 1912 - June 25, 2002

Anne was born at St Paul's Hospital in Vancouver and no matter where her travels took her, her heart was always in Vancouver. In 1937 she married Alden Prescott Whalen (A.P.) then a proud airman in the Royal Canadian Air Force stationed at Jericho. From then on, their lives were a series of moves. After going from Vancouver to St. Thomas Ontario where their daughter Penny was born, A.P was sent overseas for service during World War II. Anne and Penny returned to Vancouver and when A.P. came home they all moved to Edmonton and then on to Ottawa. Three years in France followed with many exciting experiences - not the least of which was learning to speak French. Anne enjoyed meeting some of her Dutch family on a trip to the Netherlands in 1954. A three year posting to Montreal in 1956 was followed by retirement in Vancouver in 1959. After A.P. died in 1987 Anne was able to travel and she returned to France several times to visit friends she made there. Her hobby of gardening and her great interest in Theosophy kept Anne very busy and making many new friends until just before her death in 2002.

Heinrich (Henry)
February 27, 1914 - July 18, 1986

Marie sends the following information about her father.
Dad's birth name was Heinrich but everyone knew him as Henry. Dad and Mum (Minnie) were married August 8, 1935 and I was born in 1937. In the early '30s Dad and Uncle Jim started the mushroom business on the family farm in Richmond. As Jim moved on to growing orchids, Dad concentrated on the mushrooms. Dad was a corporal in the Canadian Army Reserve 2nd Battalion Irish Fusiliers (Vancouver Regiment) from July 1940 to April 1943 when he joined the Navy, stationed in Cornwallis. He served on H.M.C.S. Hunter until the end of World War II. Marie says she will always remember going with her dad to Lulu Island to set muskrat traps for a little extra money. Henry also enjoyed hunting pheasant but Henry and Minnie's main enjoyment was participating in 5 pin bowling. They had many house parties and Marie remembers sitting on the basement stairs watching everyone dance.
Minnie died in 1967 and Henry married Myrt in 1968. In the mid 70s Henry left the mushroom business and moved with Myrt to Roberts Creek on the Sunshine Coast. Henry talked frequently about going to Gibsons to watch filming of the CBC program "The Beachcombers" at Molly's Reach. Henry loved living in Roberts Creek as their house was on the ocean so they could watch the waves and see the ocean liners pass by. Henry died in 1986 but Myrt still lives in Roberts Creek. Marie and her husband Bill Davidson have lived in Calgary for many years and see their sons Bruce and Gary and their families often.